In order to get these arm warmers shipped from the manufacturer and not lose any money, I need a few more orders (if I want to offer them for the same price). Please consider ordering some – see the information below.
---
Some of you had expressed interest in ordering more of the Kelowna Killer Beez arm warmers: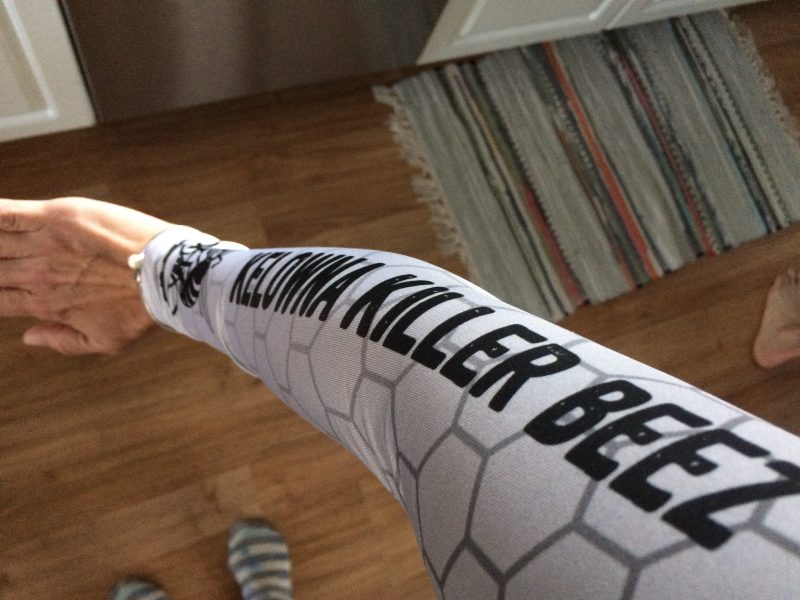 As per the picture and just like the previous order, they are uniquely designed with the previous bee mascot but neutral in colour to go with any jersey. They have been popular on cloudy days for warmth and on sunny days to keep the harmful rays away from the skin (lightweight fabric).

Again they will be very competitively priced at $15 per pair (no tax).
If you would like to order (more, or for the first time), please email me before July 10 with the number of pairs and sizes. Delivery estimate will be provided after the order is placed with the manufacturer.
This is a great gift for yourself, children who cycle, wives/husbands who run or friends who ski! There is no such thing as an "official Beez member" so anybody is welcome to order and wear them with pride.
Sizing: Small fits a small woman such as Pam. Medium fits Mel or Michael, and is preferred by Joyce and Biggi. Large fits Graham or Bob. If you need exact measurements, here are the narrow (wrist)/wide (arm) openings for each size:
Small: 136mm/230mm
Medium: 156mm/255mm
Large: 176mm/280mm
Please email me at biggi07@hotmail.com to order. After the order arrives, I will bring them to the Sunday ride to distribute. Payment is preferred via Interac transfer at the time the order is placed (or in cash at delivery).