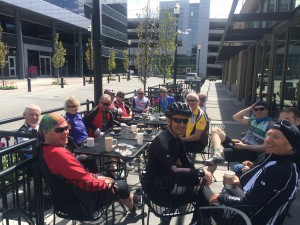 Thanks to everyone who came out today to ride with us. I think we counted 33 riders as we were leaving … I hope every rider got the ride they wanted, and we would love to see you out again.
Just a reminder of the two rules we have for the Beez rides:
No passing on the right. Ever.
We do not drop anyone. Some delays may occur because of this but it is the safest way to ride as a group.
Looking forward to a summer of riding!
And don't forget: Wednesday rides are starting this week! Meet at 5pm at Kelowna Cycle. Conversational 35km ride.