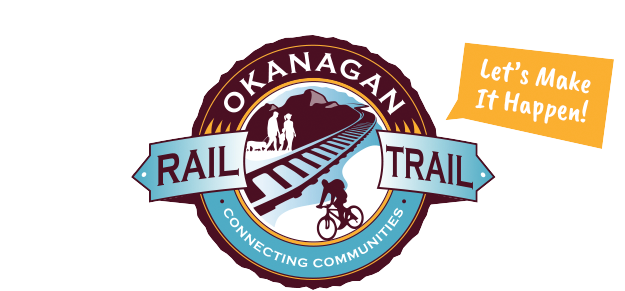 The fundraising campaign has begun!
The website is live and ready for your online donations, and your enthusiasm to get involved with events and activities to raise funds to build the rail trail.
Over the past months, the new owners of the rail trail corridor (Kelowna, Lake Country, the North Okanagan Regional District, and the Okanagan Indian Band) have cooperated to lay the preliminary framework for building a hard-packed trail from Coldstream to Kelowna. It is now up to all of us to raise the $7.86 million that the trail is expected to cost.
This is our trail and the opportunity of a lifetime!
This wonderful trail will be an almost 50 km continuous corridor that will provide a link to all communities along its amazing route featuring many of the valley's most scenic spots. Everyone's help is needed take on the job of funding and fundraising to build this trail and create a lasting legacy that will be a treasured asset of our beautiful valley. A meter of construction of trail will cost $160, and contributions of any amount are greatly appreciated!
What can you do?
Visit the new website to

Donate Now

and

Get Involved

!

Share the excitement with your friends and family!

Forward this email to at least ten others.

Become a Trail Ambassador and spread the word to engage others and expand support.

Attend a rail trail event near you.

Create a fundraising rail trail event of your own!

Watch for future e-news updates!