The last shoulder season week was a busy one for the Beez … we hiked and snowshoed, enjoying deep snow and beautiful vistas.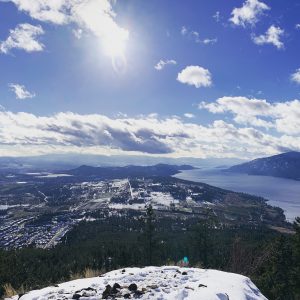 As always, Geoff outdid himself with his Relive work … thank you for providing these!
Check them out below:
The ski season has now started. Some of us will explore Sovereign Lakes, others are happy that Kelowna Nordic started grooming on the same weekend. If you have never tried xc skiing, maybe this is the winter to give it a go – it is a great sport, providing a full-body workout without lasting all day, fresh air and sunshine, and no cars, fumes or traffic lights!
A group of us ski Saturday, Sunday and Wednesday mornings. If you'd like to meet up, please email us. The snowshoe trails at Kelowna Nordic are also fabulous, with great views, flagged trails and even GPS-referenced maps (so you can always check on your phone where you are). Tom has done amazing work on this all summer!
If you do not have a Kelowna Nordic season pass, you can still buy it ($125 for the whole season!) or conveniently donate online for day use passes (ski or snowshoe). Please see their website.
Lastly, I just wanted to comment on what a great group of people the Beez are! It is so nice to have a group of friends who are always interested in a good workout outside – and are not scared off by snow, steep climbs etc. I appreciate you all!